Silver Stone's "Constructive" Crew
Every member of Silver Stone Construction says that he came to work with Silver Stone for two reasons: the opportunity to do good work with a company that sets the standard for quality, and the opportunity to work for Pat Ceithamer. (Some of them might tell you that those two reasons are one and the same.)
Here are some members of the Silver Stone team
Patrick, owner and president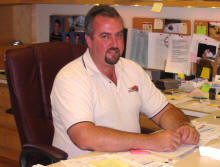 Pat believes that when Silver Stone Construction builds a home, the company is also building its reputation. That's why he has hand picked every member of Silver Stone's crew - to assure first-rate quality, from foundation to trim. And it's why Pat involves himself in every project. A master carpenter himself, he provides the above-and-beyond quality assurance that homeowners have come to expect from Silver Stone Construction.
Pat is also the new home construction Project Manager
Ken, new construction field expeditor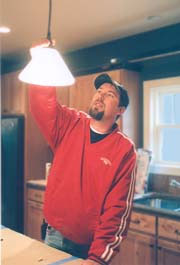 As the field expeditor for new construction, Ken manages the activities on the job site after the house is dry-walled and painted, overseeing quality control for up to twenty new houses at a time.
Kenny worked alongside owner Pat Ceithamer over 20 years ago at Pat's dad's company, and he jumped at the opportunity to be among the first of the Silver Stone Construction crew when Pat formed his own company.
A skilled carpenter by his own rights, he is the craftsman behind many of Silver Stone's trademark arched openings, columns, oval tray ceiling, hand-crafted mantels, staircases, and niches. As proud as he was of that early work, he enjoys being able to now oversee an entire project from the ground up. Because of the quality of the houses he gets to build and the quantity of smiles he gets to generate, Kenny can't see himself ever working for any other company than Silver Stone Construction.

Steve, remodeling manager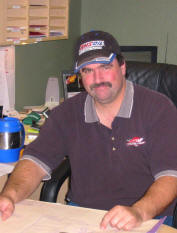 A skilled carpenter, Steve Ceithamer joined his brother's company in 1999 and soon distinguished himself as an excellent remodel estimator. Now he manages Silver Stone Construction's remodeling division.
He likes remodeling for the variety and the challenge, contending that "nothing is impossible." The key is planning – working with architects, designers, and sophisticated software that allows homeowners to experiment with different floor plans. He wants to ensure that, by the time the construction work begins, the homeowners will have a good idea of how the house will look on the inside and out. He prides himself on building additions that are designed to look like they belong, blending seamlessly with the original design of the house.
Steve sees an upsurge in remodeling in Silver Stone Construction's future. And he expects to be right there alongside his brother, Pat, just as when they were kids laying shingles together for their father's company.
Bob, remodeling field expeditor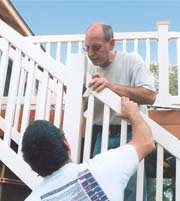 Bob says he's been working in remodeling since he was twelve, when he and his dad finished their basement together. The work evolved from hobby to career – he even ran his own remodeling company for awhile – and eventually led him to Silver Stone Construction in 2000. He is now the field expeditor for remodeling, overseeing quality control and managing the activities on the job site, from framing to insulation to painting to dry-walling.
Bob says that one of the things that distinguishes Silver Stone Construction from other remodelers is the company's commitment to ensuring that every remodel is up to the same standards the company holds itself to for new house construction. "If we find things wrong in the house, we'll bring it to the homeowner's attention and take care of it, rather than covering it up and leaving it alone." In the process of planning for a remodel, he will call the homeowner's attention to any rotting wood, inadequate insulation, out-of-code wiring, or insect infestations he discovers.
He likes the variety in his work. "Every day is different because every job is different," Bob says. "You never know what you're going to find until you go in and open up the house." He particularly enjoys restoration of older homes because they can hold the most surprises. Bob prides himself on building additions that blend with the original design of the house.