Remodeling
Think you can't afford your dream home? It could be that you're already living in it, and all you need is Silver Stone Construction's expert remodeling to unleash your present home's potential.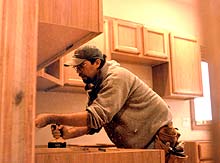 Save money by working with what you already have
Silver Stone Construction's remodeling customers have saved thousands of dollars over the cost of a new home by choosing remodeling over new-home-building. Silver Stone can work with your house's existing foundation, roof, and walls, expanding your house up or out - or both - without having to start from scratch.
What's your dream? To make room for more kids? To make room for another car in the garage? To add bedrooms to the back of the house or to add a second floor? How about updating that 40-year-old kitchen? Or maybe your dream is not so big – a screened-in porch, a new deck, new cabinets? To Silver Stone Construction expert remodelers, no job is small, and every job is important.
Managed by Steve Ceithamer, Silver Stone's remodeling division marries new technology with old fashioned quality standards to deliver the same expert workmanship that the company's custom home customers have come to expect.
For Remodeling info Contact Pat at
Pat@SilverstoneLLC.com
or call us at (608) 839-8311 ext 103
Before and After Remodeling Photos
| | |
| --- | --- |
| | |
| Before | After |
| | |
| Before | After |
| | |
| Before | After |
| | |
| Before | After |